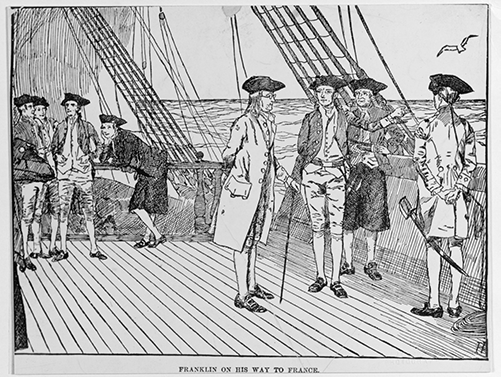 Franklin on his way to France. Drawing by Howard Pyle. NH 49422 courtesy of the Naval History & Heritage Command.
Originally Published in Harper's Young People, July 13th, 1880 to illustrate the article: The Story of the American Navy by Benson J. Lossing.
Available online at: https://www.gutenberg.org/files/29034/29034-h/29034-h.htm (accessed 8/15/2020)
Franklin's Voyage to France on the USS Reprisal
On October 26th, 1776, Benjamin Franklin, along with his grandsons Temple (age 16) and Benny (age 7), boarded the USS Reprisal to be transported to France. There, Ben would assume the position of the unofficial American ambassador to the French court of Louis XVI. Maintaining the support of France against the British was key to the success of the American Revolution.
The ship had been purchased earlier that year by the Continental Congress as one of the first ships in the new Continental Navy. While originally built as a merchant vessel, it was subsequently outfitted with eighteen cannons. It was commanded by Captain Lambert Wickes and had a complement of 130 men. The ship was used primarily as a "privateer" or a vessel sponsored to disrupt trade by capturing and selling or ransoming it.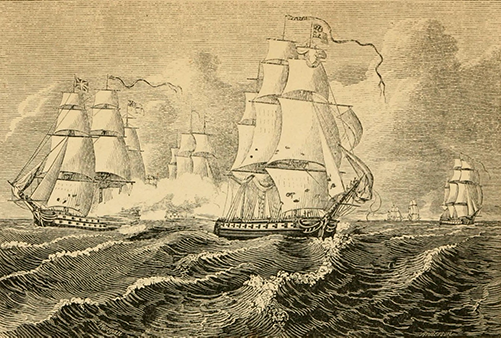 In a fanciful 1848 illustration by Alexander Anderson for O.L. Holley's The Life of Benjamin Franklin, the Reprisal is seen being chased by British cruisers. Nothing quite so exciting happened during the Franklin passage, but the ship did capture two merchant vessels off the coast of France, which Franklin witnessed.
It usually took about a month for a transatlantic crossing in 1776, depending on the winds. The USS Reprisal arrived at Auray, France on November 26th, 1776 and the Franklins disembarked on December 1st. Her continued mission up the coast of England, Scotland, and Ireland was very successful and many prizes were taken.
Unfortunately, she foundered off the coast of Newfoundland around October 1st, 1777 and all hands were lost, save the cook.
See also: Franklin's return from France